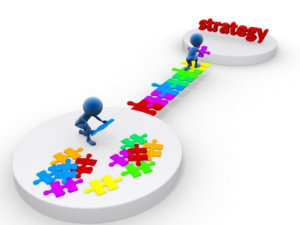 The key to keeping it alive is simple. Follow-up.
One of the questions we always get is, how do we connect our vision to our day-to-day work? They have to be linked. Whatever your vision or strategic plan or big hairy audacious goals are, they have to be embedded in your routine management practices.
When you have your meetings, you have to revisit the key issues you're driving. Over and over again. How are we doing? What's our current level of confidence regarding the success of this initiative? I always ask people that because what I want to know today is how convinced are you that we're going to succeed tomorrow?
I don't want a fluffy answer. I don't want: Yeah! We're going to do it! It's not a football game. Tell me what's really happening in your mind, because I understand that you're 90% convinced and now I want to talk about the other 10%. That's the only way we can have an honest conversation and address those potential shortfalls.
So it's pretty straightforward. Aside from the banners and the posters and the fanfare, you've got to be checking in. You've got to be managing it. You've got to embed it into the day-to-day practices of your organization.
Don't let the work and the vision be disconnected; they have to be one thing.
We are here to fulfill our vision. That's why we come to work every day. Yes, I pick up my phone and I answer my voicemail because that's all part of what needs to happen, but it also has to be aimed at fulfilling our vision. We don't do anything else.
Otherwise, the vision is just fluff. It's a slogan. It's PR. It has no bearing on people's day-to-day behavior; therefore, it's irrelevant. That's why so often when we go to create a vision, people roll their eyes. They know at the end of this exercise they're going to have to go back to their "real work."
That's not a vision. That's empty words on a piece of paper.
8 Responses